Fresh Food Delivered Weekly
Healthy, fresh ingredients: Ready to eat in about 30-40 minutes!
Are you new to cooking at home?
Tired of waiting in line?
Struggling with food allergies?
Need some help?
No time to shop?
Cooking with family is fun too!
Many of my clients are new to cooking. Especially when you have to make adjustments to your food allergies. Here's where you will know and be able to control the ingredients! It's so much cheaper than eating out. The average meal price is $15.00. The complete food "ingredient box" with recipes are delivered to your door on ice, once a week.
Tired of waiting in a restaurant line?
Here are some simple solutions for time management and quality ingredient meals. Most "good" restaurants take a minimum of a 30-minute wait to even be served; when you include driving, parking, waiting in line. You know the drill…..
No Time to Shop?
Then the other line is at the grocery store. They may even be out of a specific ingredient you need and you have to visit another store, with another line! Why not just stay at home, have a glass of wine, relax and cook for you, your family and friends? It may be an opportunity to include your partner or kids. Share your skills and teach them some cooking skills too!?
Delivery Has its Perks
Clearly, one of my favorite things about this type of delivery is that you STOP cooking the SAME stuff over and over again every week! What a lovely change of pace to have new sauces or new combinations of vegetables you have never tried or cooked before. No more running to the store to pick up that "missing" ingredient from your cupboard when halfway through cooking either!
Here are some home delivery companies to help you.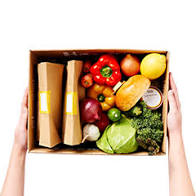 More options:
HelloFresh.com
MarleySpoon.com
Plated.com
SunBasket.com (My Favorite – Most organic choices)