Pantry Makeover: Help Me Eat Right to Feel Right
A pantry makeover may help us stay on track. Studies have shown that we reach for what's convenient and what's visible. Let Debbie the Nutritionist, guide you with steps to a healthy pantry. As well as better choices in your fridge, freezer, and cabinet kitchen. If you do not stock it, you will not be tempted to eat it. AND, if you can't pronounce it, why eat it? Learn to know about which "poisons" could be lurking in your kitchen.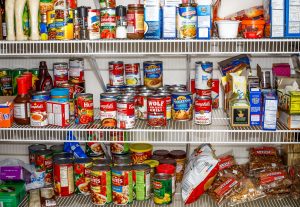 Which picture resembles your pantry?
"Classic" Pantry Makeover – "Trash and Stash"
Organized Pantry Makeover
Everyone has a unique way to organize their pantry. Most folks like to have their favorite ingredients that are highly visible shelf that is easily reached by everyone in the house. Organized shelves include breakfast cereals, snacks, oils, grains, beans, and canned goods. Cereal is a hot commodity and kids can easily go through a bag in a day or two. The point of a good organization is to create functional spaces that are visually appealing.  If your system isn't simple, what are the odds that it is going to last?
Pantry
Purge all processed foods
Refrigerator Raid
Freezer Fall-out
Kitchen
Kitchen Tools, the Basics
Kitchen Shortcuts
Storage Solutions
Containers and Safe Plastics
Food Safety
A Pantry Makeover is a non-judgmental, educational coaching session. I like to help clients become more mindful of what they are storing in their pantry. I work with clients to identify possible food sensitivities or allergens. I also teach you how to read food labels. This is a fast track to minimizing or eliminating processed foods. You will learn what to stock for your personalized pantry to help with increased energy and focus.