Ancient Grain Bowl from True Foods Kitchen
We recently had lunch and ate the ancient grain bowl at the True Food restaurant in Denver. This meal was so yummy and filling and super healthy. I wanted to try and recreate this dish at home. I highly recommend this restaurant if you want to enjoy an ancient grains bowl. Or, try this recipe yourself at home.
Prep Time: 10 mins. – Cook Time: 40 mins. Total Time 50 mins. –  Serves 2
Ingredients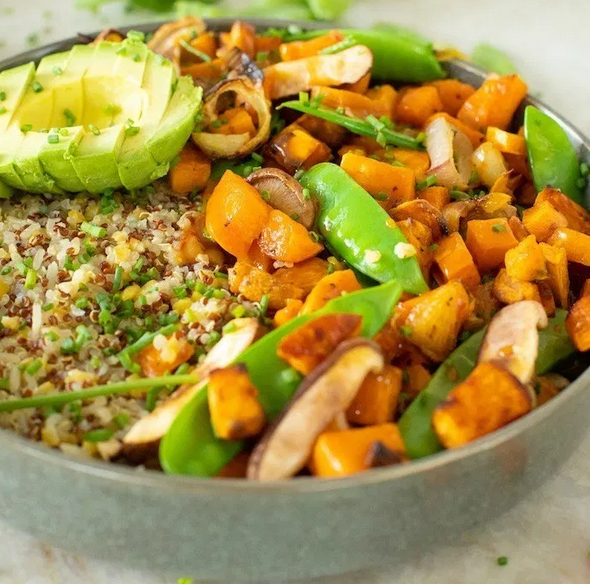 2 sweet potatoes, peeled and diced 1/2″
1 small red onion, peeled and sliced
1-2 tablespoons extra virgin olive oil
sea salt and pepper to taste
2 servings of ancient grains, cooked (Rice and/or quinoa)
1 1/2 tablespoons honey
1 tablespoon Sambal Oelek
1 tablespoon Dijon mustard
1/2 cup snow peas
3/4 cup mushrooms, sliced
1 ripe avocado, sliced
1 tablespoon chives for garnish
Optional ingredients:
If you want to add protein, sliced rotisserie chicken, leftover salmon, or shrimp sautéed in olive oil. Pesto is also a good addition. I love it, but it's not a game-changer, so with or without is fine.
Instructions
Preheat oven to 425 degrees, place oven rack in upper third position in oven. Cover a rimmed cookie sheet with parchment paper, and set aside
Prepare potatoes and onion. Place on a parchment-covered cookie sheet, drizzle with oil, sprinkle with sea salt and freshly ground pepper and toss. Be sure all veggies are glistening with oil
Place in oven and set the timer for 35 minutes
After potatoes and onions have been in the oven for 15 minutes or so, start cooking grains. The time it takes for the grains to cook will depend on which grains you buy, so be sure to check to time. Also, I find that many instructions on these grains are not spot on. My grains are almost always done before all the water is absorbed. If this happens to you, just drain the extra water using the pot lid rather than continuing to cook.
While grains cook, slice mushrooms and chives. Whisk together honey, sambal oelek, and Dijon mustard, and set aside
When the timer goes off, check the potatoes. If they are almost done (crispy browned edges) add mushrooms and snow peas to the pan and set a timer for 5 more minutes. (If potatoes need a little more time, be patient, ovens vary, just add veggies when potatoes are almost done)
Remove veggies from the oven, divide cooked grains into two bowls, and top with veggies. Drizzle generously with sauce, leaving some in a small bowl to use as needed. Add avocado, chives, and a dollop of pesto if using. Serve!
This is an easy and tasty Ancient Grain Bowl dish to serve for family or guests. Enjoy!
Denver Nutrition, LLC | Transformation Through Nutrition
Contact Debbie | Services | Food Sensitivity Testing | Meet Debbie
Lastly, what's New? Check out our BLOG HERE.