Roasted Brussel Sprouts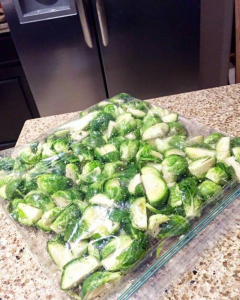 My favorite way to make Brussels sprouts…marinated overnight.
Ingredients
The  juice of 1 lemon
1 T olive oil, pepper, paprika, and garlic salt.
1/2 pound Brussel Sprouts (cut in half or quartered)

Directions
In a gallon size Ziploc bag, combine all ingredients.
Seal bag and toss around until well coated.
Refrigerate overnight.
When ready to roast, preheat the oven to 400. Place Brussel sprouts on a baking sheet and bake for 15-20 minutes. Feel free to eat the entire pan. They are that good!
Brussel sprouts with Garlic and Bacon
Total Time: 1 hr, Prep: 10 min,
Inactive: 30 min, Cook: 20 min, Yield: 4 servings
Ingredients
Kosher salt
4 cups whole Brussels sprouts
8 slices molasses-cured shoulder bacon or regular bacon
6 cloves garlic, chopped, freshly ground black pepper
Directions
Fill a large saucepan with water, add a pinch of salt, and bring to a boil. Add the Brussels sprouts and cook them for about 8 minutes. Remove the sprouts from the heat, drain them, and then chill them in the refrigerator. Slice the sprouts in half when they have cooled.
In a large skillet, cook the bacon over medium heat until it is done. Discard all but 2 tablespoons bacon fat and grease from the pan, leaving the 2 tablespoons in the pan. Add the garlic and cook for a few minutes over medium-low heat until fragrant. Add the sprouts and cook until heated through. Season the sprouts with kosher salt and fresh black pepper, to taste.