Cholesterol Lowered Naturally
To lower your cholesterol and inflammation levels naturally, diet and lifestyle are incredibly complimentary.
Cholesterol is NOT a dangerous poison that causes heart disease. Rather, it is an essential nutrient present in the cell membranes of all tissues of all mammals and has some very important functions in the body. In fact, in many studies, low cholesterol has been associated with an increase in total mortality!
Make sure you're getting plenty of high-quality, organic fruits and vegetables.
Eliminate (GMO) grains and (junk) sugar from your daily diet.
Eat a good portion of your food raw.
Eat healthy, preferably raw, fats that correspond to your nutritional type.
Lowering Foods include:

Olive oil
Coconut and coconut oil
Avocados
Raw nuts
Fresh Fruits and vegetables
Exercise
Seeds
Organic, grass-fed meats
Easy does it. Here's a juice recipe to help.
This recipe may vary from person to person. This worked well for me in only 90 days. I was absolutely amazed. This is my recipe – every morning instead of breakfast. Personally, it lowered mine by over 40 points. Amazing!
1 Bunch of celery
1 Cucumber
1 Lemon
1 inch Ginger
1 Apple
Juice all. You will obtain approx. 16 ounces of juice. This juice contains a
powerhouse of nutrients and essential salts that power up your day as follows!
Celery's mineral salts
They are alkalizing and enzyme-rich, electrolyte-enhancing,
liver-repairing, blood-sugar-balancing, and more.
Cucumbers
They offer a cooling effect and traces of the amino acids glycine and glutamine.
Lemons
Alkalinizing and rich in vitamin C, as well as minerals iron, calcium, magnesium, silicon, copper, and potassium.
Ginger
Adds a spicy warm taste, containing potent antioxidants known to help prevent colds and flu, and aids in digestion and assimilation.
Apples: "An Apple a Day Keeps the Doctor away" right?
Apples are especially rich in phytonutrients and antioxidants. Apples contain pectin which works like an intestinal broom to clean and sweep out debris from the colon. Apple adds wonderful flavor to finish this wonderful juice in the morning too!
Get the right amount of exercise.
When you exercise you increase your circulation and the blood flow throughout your body. The components of your immune system are also better circulated, which means your immune system has a better chance of fighting an illness before it has the opportunity to spread.
Avoid smoking and drinking excessive amounts of alcohol.
Address your emotional challenges.
Relaxation, meditation.
Please do NOT believe me. Do your own research.
Here are a few links to peruse to learn more about the VALUE of cholesterol:
The Diet-Heart Myth: Cholesterol and Saturated Fat Are Not the Enemy by Chris Kresser
The Cholesterol Myth That Is Harming Your Health by Dr. Mercola
Books:
Cholesterol Clarity: What The HDL Is Wrong With My Numbers?
The Great Cholesterol Myth: Why Lowering Your Cholesterol Won't Prevent Heart Disease-and the Statin-Free Plan That Will
The Truth About Statins: Risks and Alternatives to Cholesterol-Lowering Drugs
Know Your Fats: The Complete Primer for Understanding the Nutrition of Fats, Oils, and Cholesterol
Learn the better indicator of heart disease risk than just your total cholesterol – plus the dangers of statins and the need to supplement with CoQ10 if you're taking these drugs – through this infographic below.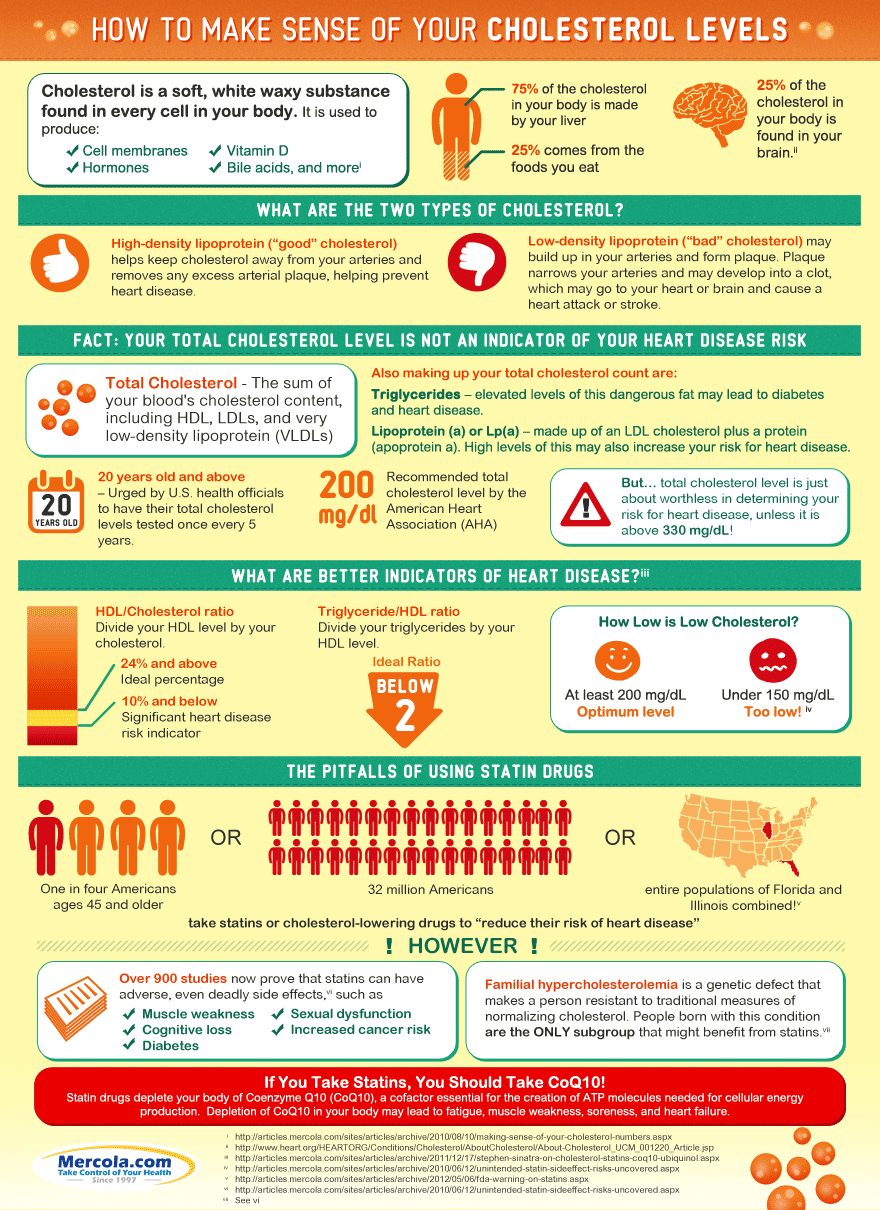 Watch this video – Big Fat Lies – powerful details:
Still, got questions about your cholesterol?
Call me, Debbie Allen at 303-782-4841. Let's review your diet and change a few things in your lifestyle to improve your cholesterol organically.